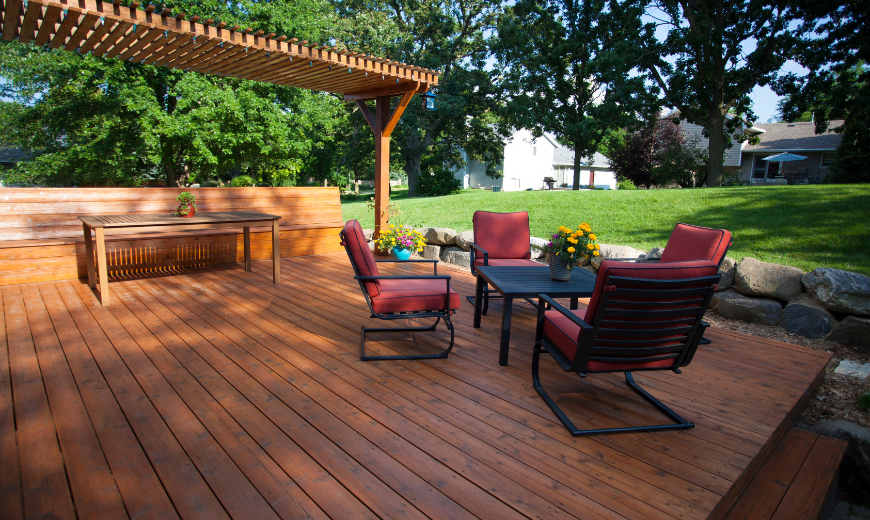 Professional Deck Painting & Staining
Your deck or patio often becomes a gathering place for you and your loved ones. A high quality deck allows you to host friends and family and enjoy your outdoor space as you soak up the sunshine during the day and chat long into the evening. It's important to ensure that your deck is well taken care of and matches with the overall look of your home. Our team of professional deck painters and stainers has the skills and expertise you are looking for in a deck staining company near you. 
Oftentimes, our valued customers like to have their fence and deck painting services taken care of simultaneously. We are more than happy to provide fence and deck painting or staining in Edmonton and the surrounding areas for you all at once so that your entire property is in tip-top condition and looking its best. 
How often should you stain your deck?
Having your deck or fence professionally stained not only makes it look great but also helps to protect the wood against mold and water damage. Essentially, when you get your deck professionally stained, you are helping to extend the longevity of it and maintain its fresh look. To know exactly when you should have your deck professionally stained, you will need to know what deck material you are working with and when it was last stained. There are a few main signs to watch for that indicate that it's time for a new coat of stain. These include, but are not limited to: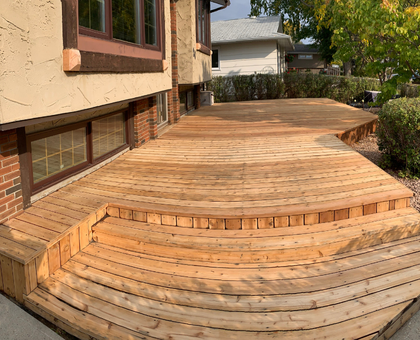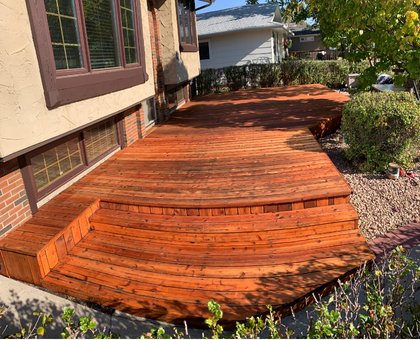 Generally speaking, whether or not you are seeing these issues, it is best to have your deck professionally stained every two to three years. Doing so will help prevent water and mold damage and keep your deck's wood in good condition so that you can avoid completely redoing your deck for as long as possible. Keeping up with regular staining of your deck is much more cost-effective than rebuilding the deck entirely.
Benefits of Painting or Staining a Deck
Improves your home's value
Refreshes your patio space
Painting allows you to cover flaws
Helps maintain the quality of your deck
Helps protect your deck against the elements
Staining lets you highlight the grain of the wood
Saves you time & effort
Ensures a higher quality end-product
Here at Colour Envy Painting, we do not provide a deck painting cost per hour. Instead, because each clients' deck and painting needs are different, we offer free individualized quotes to each customer. This way, you, as the customer, are paying for exactly what you are getting, making your deck painting or staining service as cost-effective as possible. The free quotes that we provide are obligation free and we will happily come to your property to provide an accurate quote for you. Fill in the contact form below if you're ready to get started on your quote!
We offer the best deck painting services near you if you are within the following areas: Edmonton, St. Albert, Sherwood Park, Fort Saskatchewan, Beaumont, Leduc, Spruce Grove, and Stony Plain. If you are outside of these specific areas, feel free to give our team a call and chat with us about your deck staining or painting needs and we will see what we can do for you. Reach out to our team by filling in the contact form below or giving us a call at 780-628-2686. We can't wait to help you out!
Your email address will not be published. Required fields are marked *