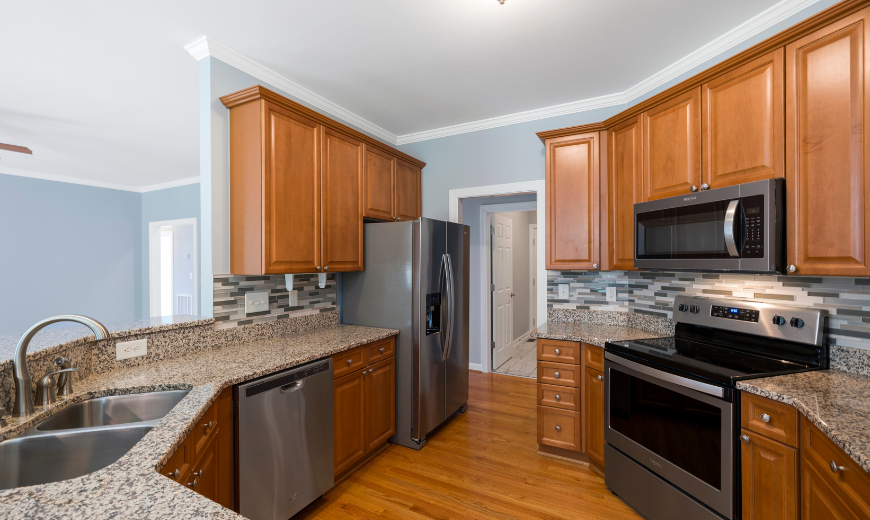 Kitchen Cabinet Painting & Refinishing Services
The kitchen is the heart of the home. As the space where friends and family alike gather to connect, your kitchen and its look and feel are essential to making your house a home. A gorgeous coat of expertly-applied paint on your cabinets will be the finishing touch you're looking for to transform your kitchen. Here at Colour Envy Painting, we are the best kitchen cabinet painters in the Edmonton area, and will leave your kitchen bright and fresh with our professional refurbishing services.
Difference Between Painting & Refinishing Cabinets
Painting or refinishing your kitchen cabinets are both great options for homeowners looking to refresh their kitchen without breaking the bank. Both options are significantly more cost-effective than replacing your kitchen cabinets entirely. However, both painting your kitchen cabinets and refinishing them will give you that revival you're looking for. 
When thinking about redoing your kitchen cabinets, it's important to consider whether refinishing them or painting them is the best option for you and your home. There are some very important differences between refinishing and repainting. Let's review them.
Painting Kitchen Cabinets
gives you a choice of various colours
lets you have complete creative control and create an entirely different look in your space
is much more cost-effective than refinishing your cabinets or replacing them entirely
makes your kitchen look modern and polished
is more efficient than refinishing 
lets you cover up blemishes or other imperfections in your cabinets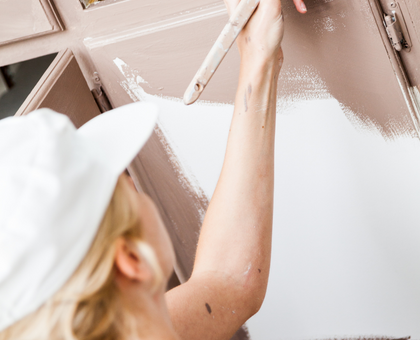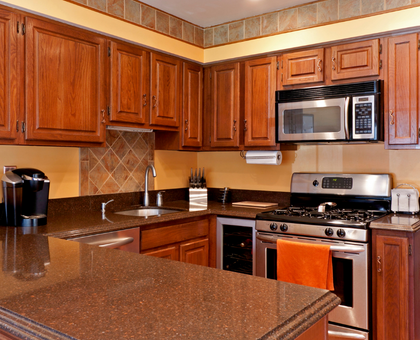 Refinishing Kitchen Cabinets
is sanding down or chemically stripping the cabinets to get back to the original material 
lets you bring out the beauty and texture of the original material (ex. exposing the wood grain)
actually corrects imperfections, issues, and blemishes in the cabinets, rather than just covering them up 
gives your kitchen a natural, earthy look
is more time-consuming & much more messy than painting because of the sanding
Benefits of Professional Kitchen Cabinet Repainting
Improves your home's value
Refreshes the space
Is a cost-effective way to get 'new' cabinets
Helps maintain quality of cabinets
Gives you the chance to switch up the colour
Reduces your ecological footprint
Saves you time & effort
Ensures a higher quality end-product
Cost of Professional Cabinet Painting Services
The cost of professional kitchen cabinet repainting and refinishing services will vary from paint project to paint project. Here at Colour Envy Painting, we acknowledge that each and every painting job is unique and requires different materials, paint, and time. Due to the uniqueness of each project, we happily provide free quotes to each of our customers, rather than generalized pricing. This way, our team can provide you with the most accurate quote possible and get you the most bang for your buck!
High quality, attentive customer service is very important to our team and something we offer from the start to the end of your painting project with us. As mentioned, each paint project is different and our team will make sure to work with you, our customers, to provide the service and attention that you need. When we help you to transform your kitchen cabinets, here is what the process will look like in four simple steps:
Frequently Asked Questions
Should I paint my cabinets or refinish them?
Choosing between repainting or refinishing your kitchen cabinets can be a tough decision. Every kitchen is different which means each homeowner may have different needs. However, generally speaking, repainting your kitchen cabinets is the way to go if you want a modern look, solid colour, and a less time-consuming project. Rather than spray painting your kitchen cabinets yourself, getting then professionally repainted will save you time and money, and leave you with the kitchen cabinets of your dreams. 
How long does kitchen cabinet painting take?
Each kitchen is different and, therefore, each kitchen cabinet repainting project will require a different amount of time. A kitchen with many cabinets that need a lot of preparation prior to the painting could require a few days of time. On the other hand, a small kitchen with only a few cabinets that don't require much preparation could take just a few hours. For more exact details for your specific kitchen cabinet painting needs, feel free to reach out to our team. 
Is repainting or refinishing my kitchen cabinets more cost-effective?
The cost of painting or refinishing your kitchen cabinets will depend on a few different factors. However, generally speaking, painting your kitchen cabinets will cost you less time and less money than refinishing them will. Refinishing will give you a much different look, but typically takes more time and requires more product, and, therefore, is more of an investment.
Our team of kitchen cabinet painting and refinishing experts will happily provide these services to our customers in the following locations: Edmonton, Sherwood Park, Fort Saskatchewan, St. Albert, Spruce Grove, Stony Plain, Beaumont, Leduc, and Morinville. If you don't see your specific place of residence on this list, feel free to give our team a call at 780-651-1525 and we will see if we can work with you to find a solution. 
Your email address will not be published. Required fields are marked *