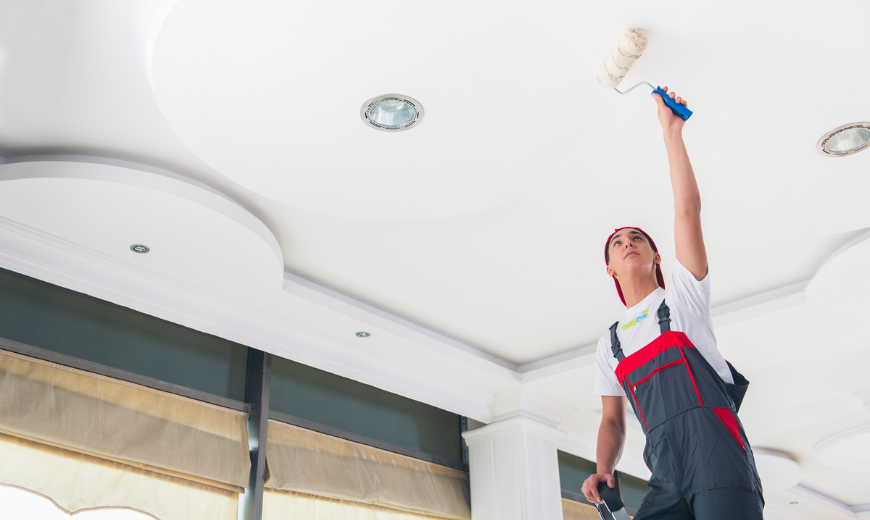 Edmonton's Expert Ceiling Painters
Although ceilings can go easily ignored, a fresh coat of paint on your ceiling can have a surprisingly large effect on the overall feel of your home or business. Ceiling painting may seem fairly easy, however, there is more to it than meets the eye and it is best left in the hands of Colour Envy Painting's professional painters. Our team of ceiling painting experts will gladly climb up on tall ladders to transform your ceilings for you. That way, you can stay safe on the ground, avoid the neck strain, and have complete peace of mind because of our team's WCB coverage, insurance, and painting expertise. 
Our Ceiling Painting Services
Our team of professional painters provides a wide variety of ceiling painting and ceiling repair services here in Edmonton and the surrounding areas. No matter what type of ceiling or texture you have, our team will be able to achieve the equisite finish you're looking for. Not sure what kind of ceiling texture you have? Don't stress. Before we book your painting service, we'll visit your property and chat with you about your exact ceiling painting needs. Keep reading for more information on our services.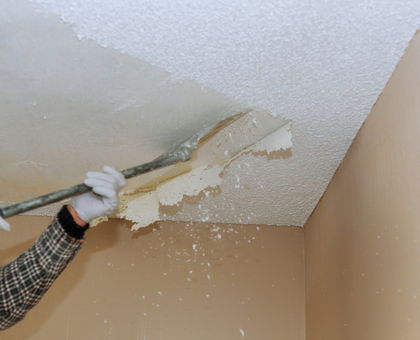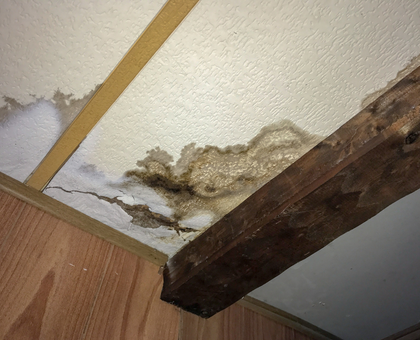 Our ceiling painting and texturing services include:
Knock-down ceiling painting
Popcorn ceiling painting
Flat ceiling painting
Textured ceiling painting
Ceiling spray painting
Ceiling texturing
As for ceiling repair services, our team will provide the following services: 
Popcorn ceiling removal
Stipple ceiling repair
Drywall ceiling repair
For more information on our ceiling repair and removal services, feel free to check out our Drywall & Ceiling Repair page. 
Don't see exactly what you're looking for? Feel free to get in contact with us anyways. We are happy to discuss your exact ceiling texturing, repairing, or painting needs to see if we can help you achieve your dream ceiling look. 
Benefits of Professional Ceiling Painting
Improves your property's value
Refreshes your space
Saves you the neck strain
Helps maintain the quality of your home
Gives you the chance to switch up the colour
Lets you stay safe off of the ladders
Saves you time & effort
Ensures a higher quality end-product
Cost of Getting Your Ceilings Painted
The exact cost of your ceiling painting services will depend on a few different factors including your desired paint, the size and height of your ceilings, and what kind of ceiling you're looking for. At Colour Envy Painting, we choose to provide free quotes to all of our customers for each paint project, rather than generalized, one-size-fits-all prices. We do so because, when it comes to painting, there is no one-size-fits-all! For a free, no-obligation quote for your ceiling painting project, simply get in contact with our team by giving us a call at 780-651-1525 or filling out the contact form to the right. 
Our service areas for ceiling painting include Edmonton, Beaumont, Spruce Grove, Leduc, Stony Plain, Sherwood Park, Fort Saskatchewan, and St. Albert. If you are located outside of these specific locations and are looking for high quality ceiling painting services, give our team a call or fill in the contact form to the right and we'll see what we can do for you.
Your email address will not be published. Required fields are marked *